How to Choose the Best Montessori Climbing Triangle
Montessori climbing toys such as a Pikler triangle are great to have for your child to develop their gross motor skills. Yet there are so many to choose from, where do you even start? I will share with you some things to keep in mind when it comes to choosing a good Montessori piker triangle as well as some of the accessories that go along with it.
Whether you are looking for a Montessori climbing triangle made out of high-quality natural materials or something with easy storage, I have a few great options when it comes to purchasing Montessori climbing toys.
Qualities of a Good Montessori Pikler Triangle
When looking for the best Pikler triangles you want to keep a few things in mind:
First, consider safety. It is so important, especially when it comes to a climbing frame, such as a climbing triangle to buy from a well-known and trustworthy company with good reviews.
Secondly, you will want to consider the overall size of the climbing triangle. The good news is that each climbing triangle that I recommend folds up flat which makes it easy to store. However, you will want to consider the footprint of the triangle when it is open. There are some larger triangles that would be great for creative play until 5 or 6 years old!
Another great way to ensure the quality of a Montessori climbing triangle is by seeing if the company is using high-quality materials and natural wood when building its product. In my recommendations below I list the size, wight limit, materials used as well as other safety features or things worth noting that are unique about a companies product.
Best Overall Pikler Triangles
I have five of the best overall Montessori climbing Triangles to share with you! Hopefully, this information is helpful as you decide which climbing triangle suits your needs and your environment best.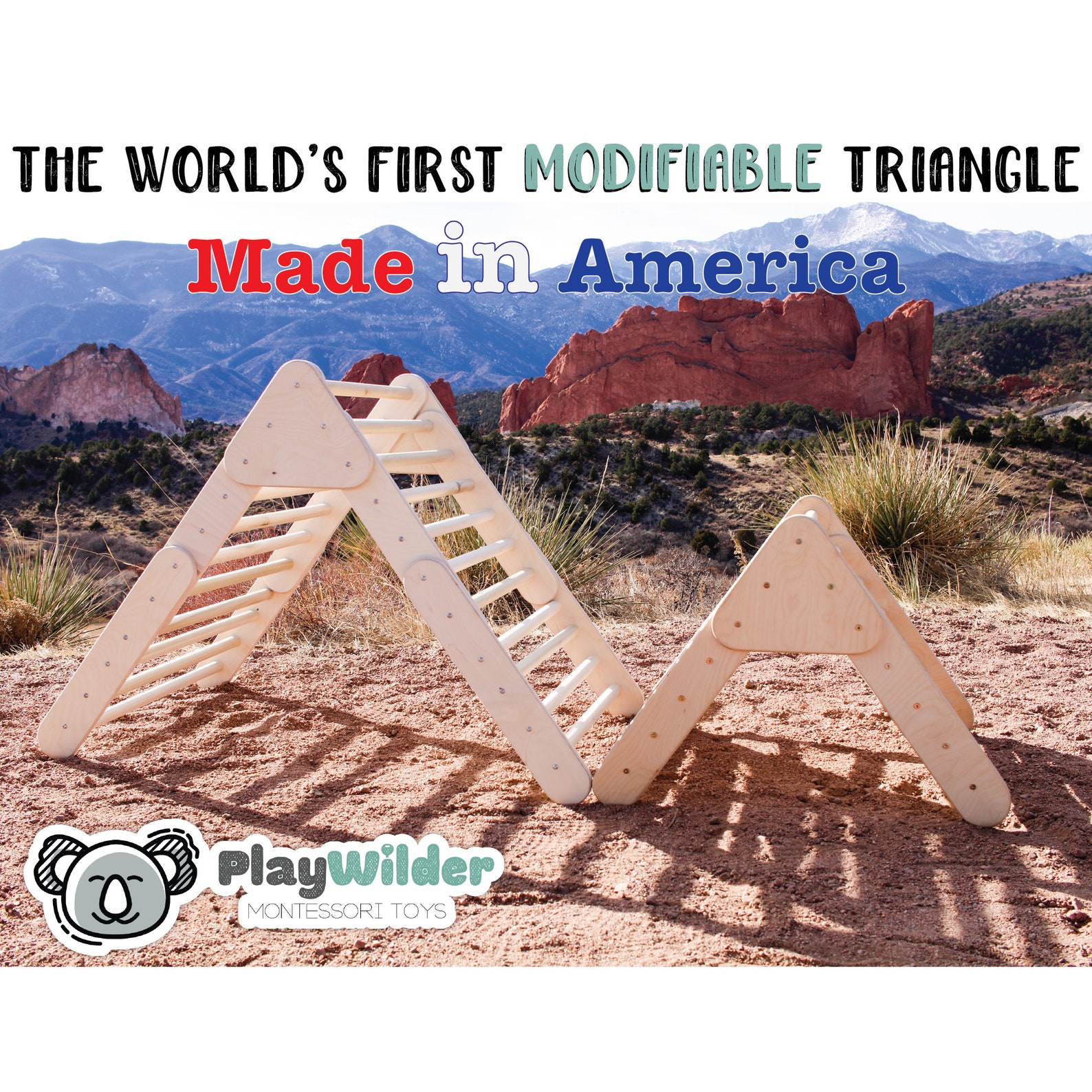 Why Your Child Should Have A Pickler Triangle
The best part of climbing triangles is how they can support and boost motor skills. A climbing triangle can start being used as early as 6 months old. A Pikler triangle wasn't developed by Maria Montessori, but it aligns very well with the Montessori philosophy. It would be a perfect addition to an independent play area in your home and will provide lots of fun for your child for many years!
Commonly when you think of Montessori toys you may think of smaller shelf work-type toys, which are beautiful and have a very important purpose. Our children also need many opportunities to move their bodies in bigger gross motor ways like climbing, running, jumping, and skipping. The Pikler triangle provides endless opportunities for imaginative play and climbing. You can also add to the climbing triangle by getting ramps and even the climbing arch. A Montessori climbing set requires more space in your environment but would create such a fun environment.
History of The Pikler Triangle
The Pikler triangle was developed by a Hungarian pediatrician, Dr. Emmi Pikler. She was born about 30 years after Maria Montessori but they had very similar understanding of children and their need for movement and doing things productive for their development. Dr. Emmi Pikler spent a lot of time observing children, she noticed that those children who had the freedom to run, jump, climb trees, and overall have lots of movement were healthier and had fewer broken bones.
Frequently Asked Questions
Are Pikler Triangles safe?
With any climbing toy it is important to supervise your child as falling is always a potential risk. However, children have a need for movement and will climb many things. By offering them something that is intended to be climbed on we are giving them purposeful opportunities to meet that gross motor need.
As your child continues to play on their climbing triangle they will gain a stronger sense of balance as well as more confidence in their climbing abilities. If you are concerned about injuries, you could invest in a mat that you put the climbing triangle on.
What is the purpose of a Pikler triangle?
The purpose of a Pikler triangle is to give opportunities for children to climb and develop their gross motor skills. You can pair a climbing triangle with a climbing ramp to create more opportunities for creative movement. A Pikler triangle is a great alternative to outdoor gross motor movement, which can be challenging to get enough of during the frigid months.
Can you make a DIY Pikler Triangle?
It is possible to make a Pikler triangle on your own. If you have carpentry skills, you may be able to construct a climbing triangle on your own. The Pikler triangle in my home was actually one made by a close friend of ours, he is a quite talented woodworker and made a great quality Pikler triangle. It is important that you ensure that the climbing structure is safe and secure before having a young child climb on it. There are templates, like this one, that can give you the plan to create your own Pikler triangle.
At what age can you begin using a Pikler triangle?
Babies will typically climb and crawl before they walk. This means you can begin introducing a Pikler triangle as early as 6 months old. However, a Pikler triangle would be one of the best gifts for a first birthday. My twins have used our Pikler triangle as they have been pulling up to stand. However, even at 11 months they are not doing much climbing, rather just pulling up and maybe lifting their feet onto the first rung of the triangle.
Are Climbing Triangles safe for babies?
As babies are developing core strength and working on all the new skills their body is capable of there is always a possibility of falling. However, if you invest in a high-quality climbing triangle and are close by, then I think yes, climbing triangles are relatively safe for babies. Here are a few things I have noticed about my babies starting out using their Montessori climbing triangle. One, the triangle is angled, which means the weight of their body naturally leans into the triangle, making it much less likely that they would fall backward. I find it would be more likely that they would slip down the rungs if their footing isn't strong. I think that a climbing triangle allows the child to gradually build confidence in what their body is capable of.
Are Pikler Triangles worth it?
If you have a young toddler and live in a part of the world that has cold winters and possibly very hot summers it can be nice to have some indoor play equipment that gives an outlet for gross motor movement when getting outside for long periods of time each day isn't possible. A Pikler triangle is a great product for both small and large spaces becuase they fold up and can be stored away. If you have a busy toddler, which most toddlers are, then I think a pickler triangle is worth it, or some other types of wooden climbing toys
Are Pikler triangles Montessori?
The Piker triangle was developed by Dr. Emmi Pikler who lived around the same time as Maria Montessori. They had a similar understanding of children and their needs for movement. A Pikler triangle and its purpose aligns well with the Montessori philosophy and is found in many Montessori families' homes as well as Montessori classrooms.
What are other good climbing toys to support gross motor development?
Getting a rope ladder or climbing wall is another great way to support gross motor development in children. I have a whole blog post on the best climbing toys for toddlers, check it out here.