How to Make a Montessori Wardrobe for Children
Montessori wardrobes will provide your child with greater independence when it comes to choosing and putting away their clothes. A Montessori wardrobe is designed to meet the needs of your child, so they will vary across the board. The wardrobe will allow your child the freedom to choose as well as more independence in putting clothing away. There are many options when it comes to Montessori-inspired wardrobes for children. There are many Montessori wardrobes available for purchase or you can create a Montessori wardrobe or dressing area by following the basic principles I suggest below! Whatever your budget is, there is a way to create a Montessori wardrobe for your children!
What Does a Montessori Wardrobe for Children Look Like?
Montessori wardrobes for children will vary in their appearance, but the underlying principles are the same. Here are some of the key elements when choosing or creating a Montessori wardrobe:
Child-sized – The wardrobe should be accessible to the child and allow for their independence in choosing articles of clothing. You need to consider at what age you want your child to be able to be independent with these tasks, some of the wardrobes I will suggest may initially be too tall for your youngest child who could begin being independent with choosing clothing around 1 year old.
Supports independent access to clothing
Organized with shelves or drawers and a hanging space
Visually appealing – This doesn't mean expensive necessarily! We just want to offer our children beautiful things.
Why would you create a Montessori wardrobe for children?
If you are looking for a way to offer your child more independence, a Montessori wardrobe is a great way to do that! Creating a Montessori wardrobe will give your child the opportunity to choose their clothes and begin to take on the responsibility of dressing themself. It is important to note that a Montessori wardrobe may not be the only place you store clothes for your child. Especially at a young age, you may only have 2-3 shirts out at a time. Allowing them to choose but not giving them too many options to choose from. A large closet that is not accessible to the child may be where you store the other clothing items. You will also want to store out-of-season clothes in another location.
Preparing a Montessori wardrobe for your child will offer them a greater sense of autonomy. They will love having the freedom to make choices. The beautiful thing about this, is you as the adult can prepare it for them. Meaning, you will put out appropriate choices. This may help to eliminate power struggles around wanting to wear shorts in the middle of winter!
Where to get a Montessori wardrobe
I will share with you 5 Montessori wardrobes that you can purchase with their pros, cons and price point. There are many others out on the market though. I will also share 2 DIY options if you are looking for a project and a potentially cheaper option!
Here are some other Montessori wardrobes that are available for purchase.
Product Dimentions Available:
38.75″ H x 30″ W x 11.5″ D
38.75″ H x 47″ W x 11.5″ D
This post contains affiliate links, which means I make a small commission at no extra cost to you. See my full disclosure here.
Product Dimension: 19.7″D x 37.4″W x 42″H
Pros
Aesthetically pleasing
Built in space for shelves. Could also use baskets.
Cons
Dowel is permanent at 40 inches, which won't be accessible until about 3 years of age.
Size: Height: 33.9 inches, Width: 33.7 inches, Depth: 13.4 inches
Pros
Designed for children ages 1-8 years old
2 year warrantee
Made from high-end birch plywood
CE and CPC certified
Free from all dangerous chemicals, non-toxic
Hand sanded to avoid any splintering or sharp edges
Price Match Guarantee
30 Day Easy Returns
Parent Owned business
Free shipping within the USA
Cons
Dowel fixed at one height
Price point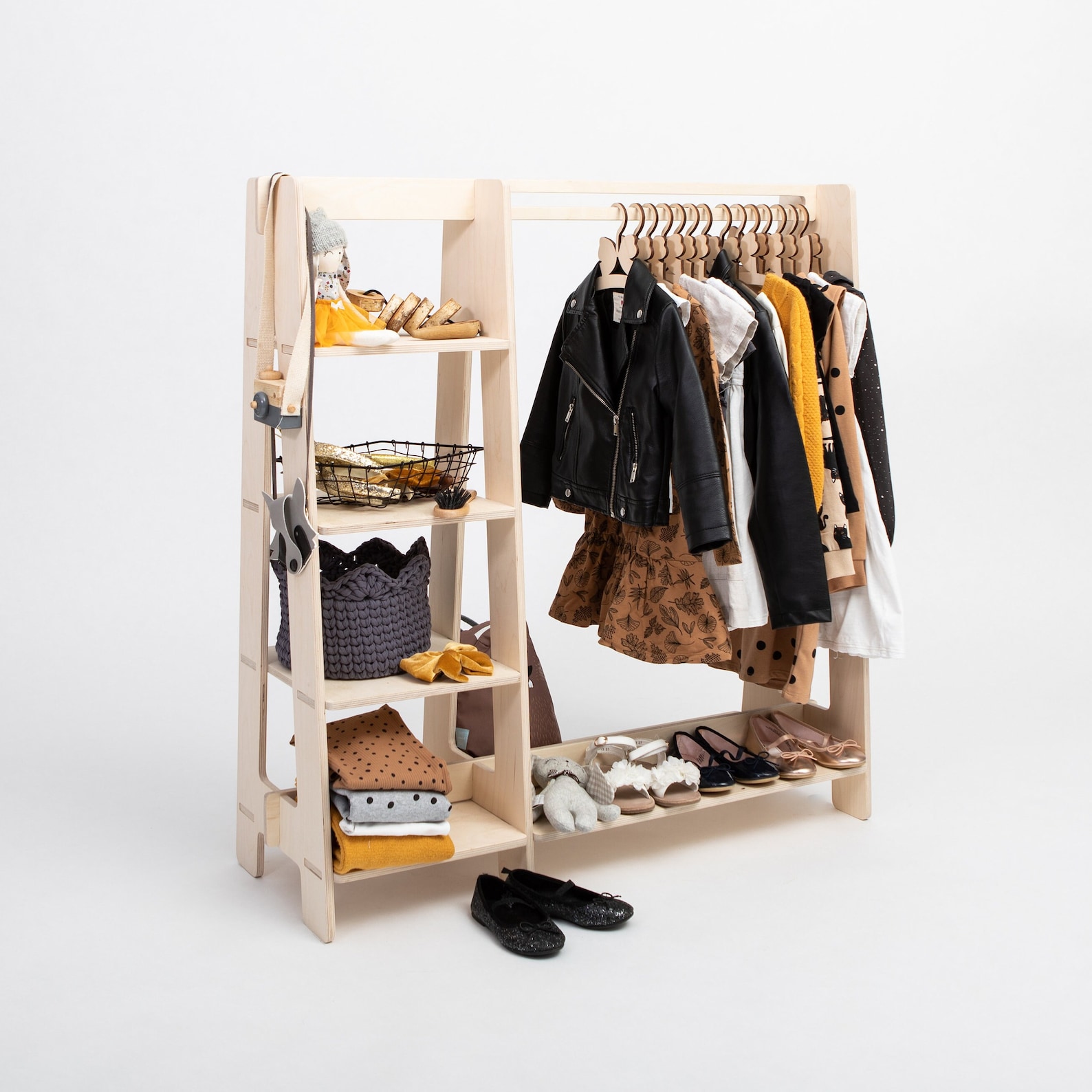 Pros
Aesthetically pleasing
Comes in 4 color options: White, gray, black or non painted
Great shelf storage
Cons
Height of the hanging rod won't allow for young toddlers to hang and access hung clothing independently.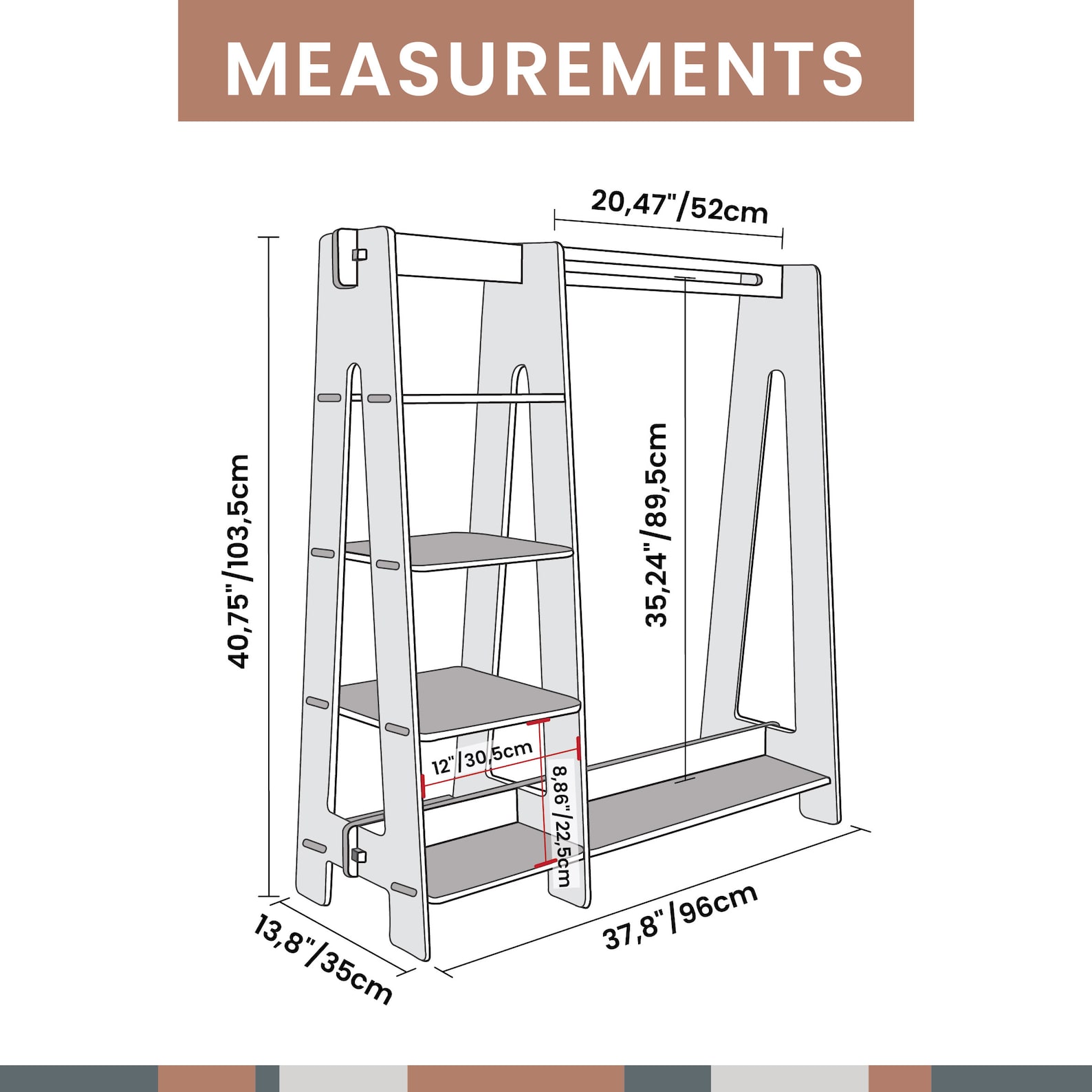 Product Dimentions: 47″ W x 14.5″ D x 40″ H
Pros
Made of wood
Collapsible which allows it to be stored under a bed
Free standing
Easy to assemble
Low price point
Aesthetically pleasing
2 sides of hanging for different length items
Cons
Usable from ages 3-6. Not ideal if looking for something for a young toddler to have independent access to.
Limited storage space
DIY Montessori Wardrobe Options
Ikea KALLAX DIY Wardrobe
I'll share with you how I made my Montessori wardrobe for our twins! We used the KALLAX 4 cube shelving unit from Ikea. I also got 2 sets of the KALLAX drawer inserts from Ikea. I used these tension rods for creating a hanging space in the wardrobe.
Steps to a IKEA kallax Montessori Diy wardrobe
Assemble the KALLAX 4 cube shelving unit but leave out one of the shelves on either the right or left side (I chose to have the hanging on the right side of the wardrobe.
Assemble and install the KALLAX drawer inserts into 2 of the cube spaces.
Use the tension rod in the side with a shelf left out.
Hanging Rod and Bakets DIY
You could make a very simple Montessori wardrobe at any desired height by getting a hanging wall mount and some baskets or drawer organizers for items such as pants, socks and underwear.
Frequently Asked Questions
When can I start using a Montessori wardrobe?
You can begin using a Montessori wardrobe as early as infancy. If you begin that young your child won't be able to use it with independence for quite awhile but it will help them to see that we respect them in such a way that we have placed their things within reach and at eye level for them. Then, when they become more independent they will choose their clothes when the time comes. You can begin offering choices to your child at a very young age, even a few months old. They may look at one article of clothing longer or reach out and grab it. In this way, you can take this as them making a choice!
How do you organize a child's wardrobe?
When organizing the Montessori wardrobe we want to keep it very simple and orderly. Have a place for shirts to hang, a basket for pants or shorts, a basket for socks, and a basket for underwear. You may also want to limit the amount of articles of clothing which will help your child to make a choice. As a result, your child will be able to more easily make a choice.
How do you organize a young child's clothes?
It is helpful to store out of season and clothes of the next size in a different location such as in a larger closet or in clothing storage bins.
How can I save money when building a wardrobe for my child?
You can save money by purchasing a less expensive Montessori wardrobe. Try to find ways to DIY the current closet in the bedroom to allow for more independence. You may just need to purchase some different shelving options or bins to make that space more functional for your child to independently choose their clothing.
How can I make a Montessori wardrobe on a budget?
Consider a DIY option! Get creative- there are SO many ways to make a Montessori inspired space without spending a ton of money. Obviously some of the higher ticket price options will be more aesthetically pleasing and overall more functional, but a Montessori dressing area really just needs a hanging space at a reachable level for your child and simple organization with either shelves or baskets that allows your child to freely access the other pieces of their wardrobe.